NAWCC, Chapter 92 South Western Ontario
About The Chapter
Welcome to our web site
We are Chapter 92 South-Western Ontario of the National Association of Watch and Clock Collectors (NAWCC). We are based in London, Ontario, Canada and draw members from all over Southern Ontario.
The purpose of the club is to
- stimulate interest in timepieces of all kinds
- foster interest in the collecting and preservation of time pieces
- facilitate the sale or purchase of time pieces by members
- co-operate with individuals and organizations in exhibiting time pieces
- collect and preserve horological data and material for posterity
- disseminate information regarding the mechanism, repair and preservation of timepieces
If you are interested or curious about clocks and watches we encourage you to attend a meeting. You just need to bring your questions and have some fun. Feel free to contact one of the executive listed below, or just show up at the door!
Information about the NAWCC can be found at www.nawcc.org and the NAWCC Chapter Handbook
Chapter 92 Meeting Information

Meeting Dates
Meetings are usually the first Sunday on alternating months
2013/2014
Dec. 1, 2013 Annual Christmas Meeting and Turkey Dinner
Doors open at 9:00am
To help get organized for the Dinner we will have the Silent Auction first, followed by the Meeting portion which is always great fun, then the Turkey Dinner, tickets are $10.
The display will be "Clockwork Toys", with special prizes for display items.
Christmas goodies to share at coffee break would be greatly appreciated.
Hope we see you there!
Feb. 2, 2014
April 6, 2014
June 1, 2014
Meeting Agenda
- Doors open at 9:00 am
- Meeting at 10:00am followed by a members Silent Auction
Location
Chapter 92 meetings are at the

Royal Canadian Legion, Branch 501 Lambeth
7097 Kilbourne Road
London, ON, N6P 1K5
519-652-3412
Membership
To become a Chapter 92 member you must first be a NAWCC National member in good standing. To learn more about the NAWCC click here, to review the Chapter 92 Constitution click here.
Chapter 92 dues are $30 year and allow members to bring their spouse, child and guests to any meeting.
Note:
Memberships are due at the Oct meeting.
NAWCC members from other Chapters are always welcome to attend.
2013/2014 Executive
Executive:
Janet Clarke 705-645-9938
Larry Green 519-354-8878
Bob Dickson 519-674-0602
Phyllis Waite 519-621-9374
Eldon Grant 519-627-5870
Rick Robinson 519-782-3718
Charles MaGee 519-264-9625
Ralph Werden 519-864-1889
Newsletter:
Cathy Koolen 519-937-9041
Webmaster:
Don Purdy 519-667-9033
Education:
Mark Loates 519-620-0950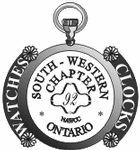 Announcements:
Workshops Up-Date
Unfortunately, there were insufficient registrations for this year's series of clock workshops. It is unfortunate that we are unable to maintain our commitment to Horological Education. Hopefully we can restart the workshops in the spring if interest is there. Please see Mark Loates if you are interested.
Carl Hass Estate Auction
The next auction for Carl Hass will be Saturday, Dec 7th at Jacobs Auctions in Mitchell. Viewing will start @ 8:30 with the auction @ 9:30.